Securing Your Business

About Omega Alpha

Omega Alpha Consulting provides consultancy and audit services in the area of Information Security and Risk Management.

Other Information

Quick Links

Omega Alpha Consulting is a small company providing specialist consultancy services in the field of Information Security and Risk Management. With experience in IT support and development as well as IT security, audit and risk management, our personnel has a broad grounding in the field.

Our experience covers many sectors, including finance, industry, manufacturing, tele-communications and retail, with a particular focus on the European government sector in recent years.

| | | |
| --- | --- | --- |
| | Read More | |

Specialised in Information Security Policies

All large organisations should have a formal set of information security policies. The policies act as the framework for your security controls, and the basis for more detailed security documentation, such as standards, guidelines and procedures (often called SecOPs - Security Operating Procedures).

Although security policies often cover similar ground, most organisations find that they cannot use standard templates - in this area, one size does not fit all. We have the experience to help write policies and other security documents that meet your organisation's needs.

Assessing Information Risk

Risk Management is increasingly important in both IT and the business, and has a particular focus for IT security. Information Security Risk Management is a confusing field with many different approaches and methodologies; we can help cut through the fog!

Standards such as the ISO 27000 series are a great starting point for IT security. Our deep experience and understanding of these standards helps us to help you...to be more secure!

| | |
| --- | --- |
| Copyright ® 2011 Omega Alpha Consulting SPRL | |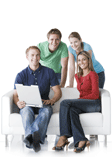 Site under construction - please note that not all links work yet!